For those of you who live in the Biltmore or Arcadia area, you should be excited to hear about a couple of new restaurants opening up in the Camelback Colonnade shopping center at 20th St & Camelback.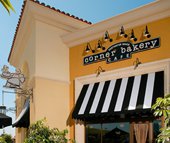 Corner Bakery Cafe is opening early next month and will occupy the former Miracle Mile Deli space.  Miracle Mile is now located at 16th St & Campbell Ave.  Corner Bakery Cafe already has locations in downtown Phoenix, Arrowhead, Scottsdale, and Tempe.  

The company's website says the business started on a corner in 1991 in Chicago.  The original neighborhood Corner Bakery "began handcrafting artisan breads and freshly baked desserts using only fresh ingredients in a real kitchen."  Eventually, that bread was used to make sandwiches and other specialties.  As the brand continued to grow and flavors were introduced from other parts of the country, the restaurant became Corner Bakery Cafe.  

Also, opening at Camelback Colonnade is Pork on a Fork.  Currently, the only valley location is in the Deer Valley area.  
The owner of Pork on a Fork, Justin Erickson, says he was inspired by his father half a century ago.  His dad, known as Smokin Dan, entered his first BBQ competition on a dare.  Justin helped his dad and learned the tricks and the trades of making great BBQ.  After getting the BBQ bug, the Pork on a Fork idea was formed in 2009.  The recipes are top secret.